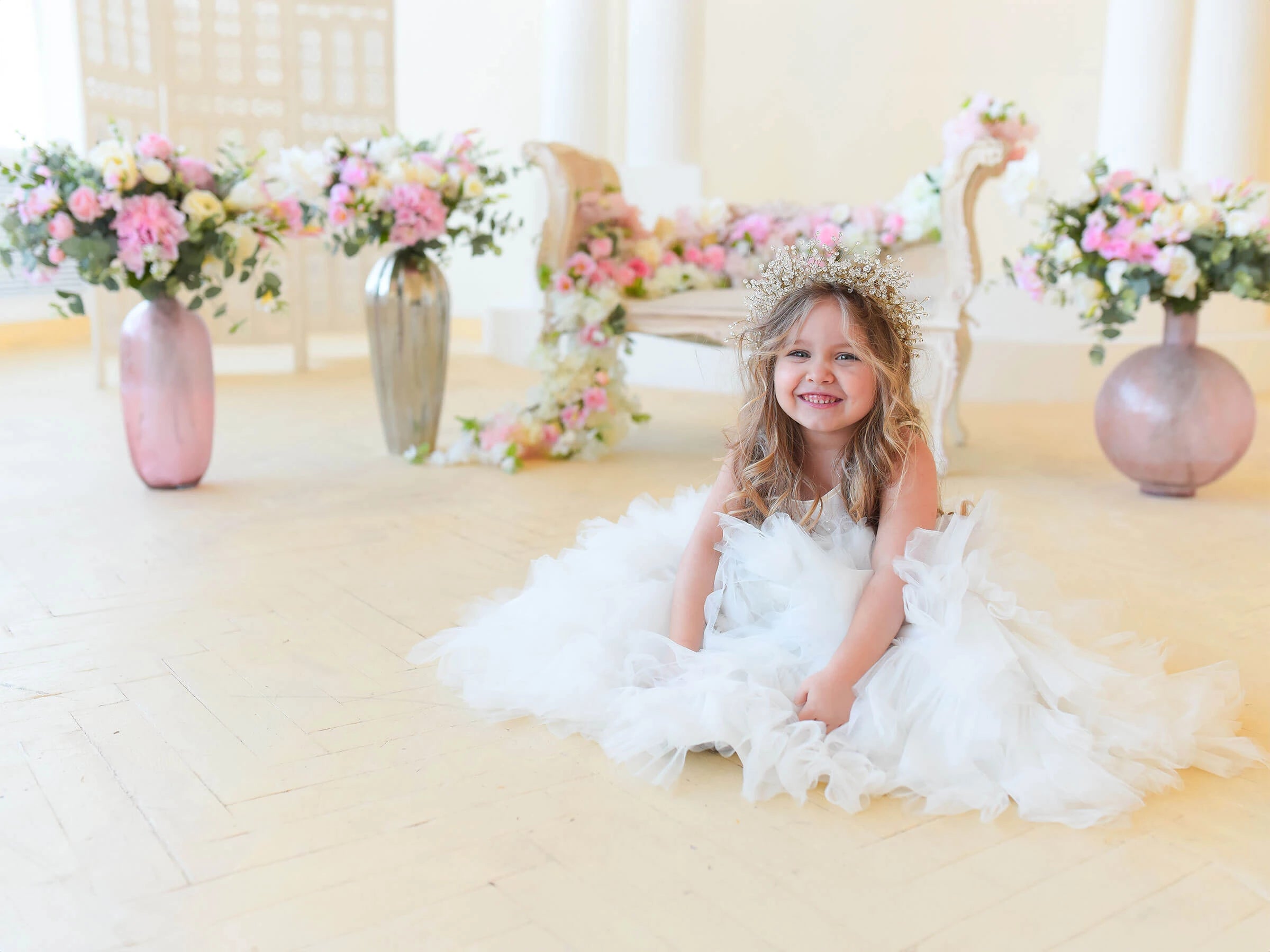 Party dresses
What comes to mind when you think of a party? Ornaments, balloons, and party dresses, of course. Kids love their party dresses because the party dresses that make the best memories stay in the photos forever.
The children of the modern world also follow fashion secretly. Up to a certain age, they choose the most ornate, glamorous and attractive colors. Then they get older and their tastes change. Of course, the models of party dresses too! You will find a dress for every child and every taste in the Tha Dressing party dress collection.
Little princesses' favorite party dresses are usually puffy skirts, tulle, feathers, and sequins. We make our designs by focusing on the details that they will like. Each one of them looks as beautiful as a princess in the party dresses we decorated with low-cut backs, huge ribbons and accessories. When they get a little older, they start to like simpler designs than long skirts and we are with you again with our dresses that suit their changing tastes. Of course, our party dresses are the choice of our little girls not only at parties but also in situations that require special photo shoots. It's a pleasure for us to be part of their growing up photos.
When you examine our party dresses, you will see that we have dresses for almost every taste. An issue as important as design is production. We use the best quality fabrics for princesses all over the world and produce quality that can be kept for many years. If the party dress you bought is too small for your little girl, give it to another girl and the happiness will continue…
We would like to share with you a few suggestions that you should consider when choosing a party dress. If your daughter is over 2 years old when looking at dress models, definitely get her ideas. Girls whose opinions are asked in the first years of their lives become much more confident and determined adults. Don't ignore the colors and designs she likes. How many opportunities does she have in her life where she can dress more colorfully, lively and cheerfully? Let her exaggerate when choosing a party dress, choosing puffy skirts, sequins and sequin designs. Colors are her passion right now and take the first step now to make her life as colorful as rainbows.
If there are any details other than age that you need to add in your party dress orders, please let us know. It is very important for us that the party dresses we send all over the world are tailor-made in a way that will make them the happiest. If they have a special size, our tailors will customize the dress for the little princess right away.
We want the party dresses we design for girls to be not only fashionable but also in line with their imagination. We add our dreams to our every dress design and make the dreams of little girls come true. These dreams are the best part of our job!
Photos of special occasions, weddings and parties are also special. Have you ever thought about the unforgettable poses of your little girls in their party dresses and the importance of them in their future? It is a great feeling to know that THA party dresses will make you happy even years later, thanks to the albums in your homes - now Instagram! Here we produce new party dresses every day for those beautiful memories. We want to be by your side on birthdays, weddings, special nights, New Year's Eve, every beautiful day you can think of.
We would like to be together for your little girl's 4th birthday, with whom we celebrated her 3rd birthday together. That's why we are with you not only during the sale but also after it. We want to maintain our special relationship with you after every dress we produce. Sending us the photos of your little girls in THA party dresses is the greatest gift for us. We are happy and proud to share those photos -with your permission- on our social media accounts. Do not forget to send us your beautiful photos and the happiness of your little girl. Photographs of them in princess dresses spread joy and happiness to the world. We all need goodies and such little happiness!
Don't forget!
Every kid wants to live life like a party and dress like princesses. Party dresses bring them to the fairy tales of their dreams and every child loves fairy tales.
Then come on, let's write the fairy tale of her dreams together.
May your little girl be very happy and achieve everything she dreams of in this fairy tale. Let it pass under the rainbow and make a beautiful wish.
Which is the best party dress for the little lady?