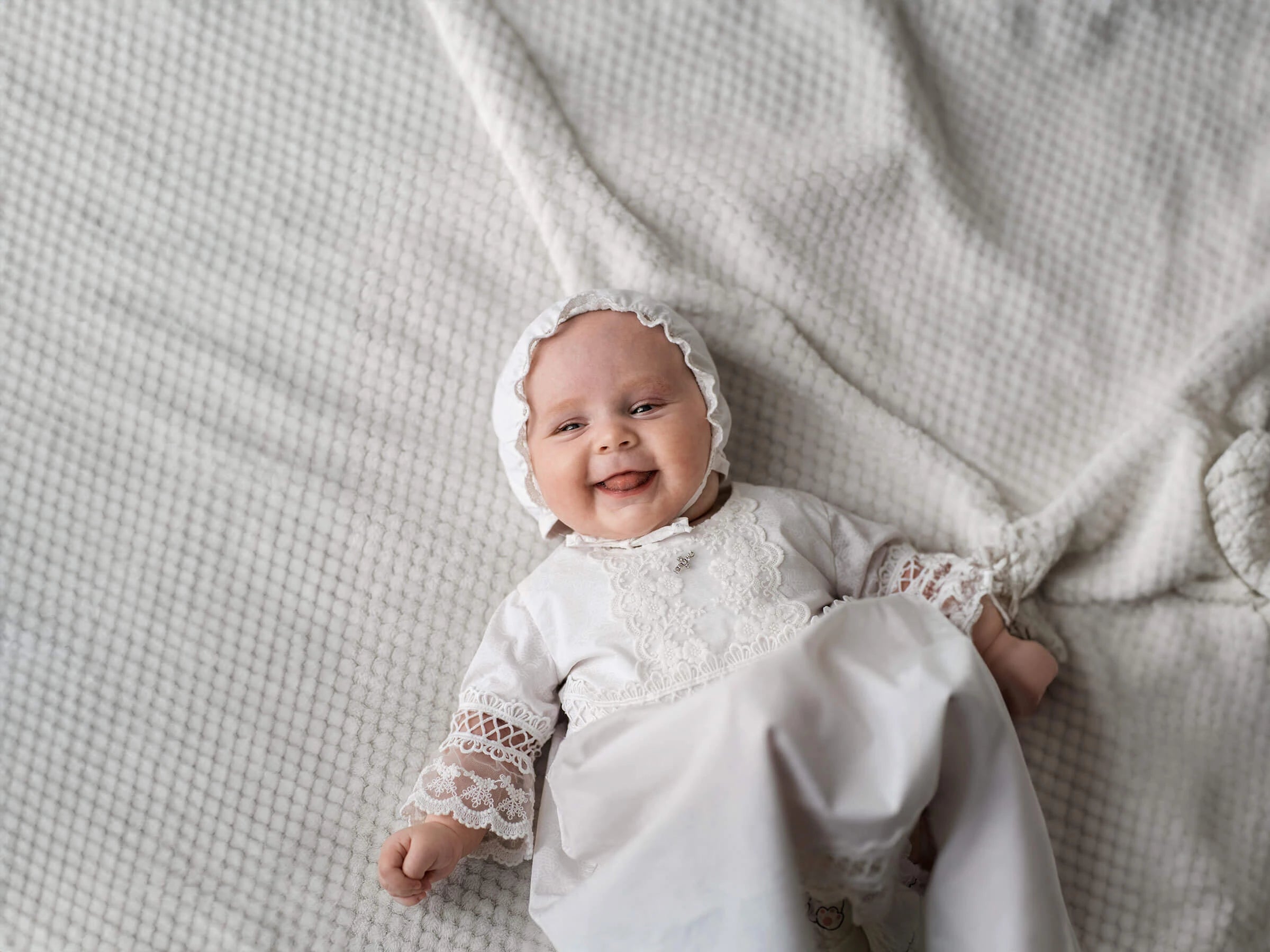 Christening dresses for baby girls
Preparing for your baby's baptism is a very exciting and happy event in every way. Many preparations such as the preparation of the ceremony, the guest list, the banquet table are the responsibility of the parents. As THA Dressing, we are ready to take an important responsibility from you: the baptismal dress for your baby girl.
But before you start reading the article, we have a suggestion: Keep calm, enjoy and spend one of the best days of your life not running, but happily! Now think about it, your baby is in the arms of you and all your loved ones in a wonderful christening gown, smiling safely and happily! That's the thing!
The importance of white christening gowns
We know that some parents think that we should buy a white dress. Think of it this way; White is the color of innocence and purity. White is also important because it symbolizes the sacred purpose of baptism. It is customary to honor the Holy Spirit and God with the innocence of the color white. If your baptismal church is a traditional church, we recommend choosing white. If you absolutely do not want a white dress, cream, pale pink, blue and yellow tones can also be an option for you. Let us remind you that you can find a dress for every taste in the THA Dressing collection.
There are routines that families all over the world adhere to for the baptismal ceremony, the most important milestone of your baby's early life. You get to be with your loved ones and experience great happiness to bless and celebrate the spiritual birth of your baby. Taking pictures of your baby during the ceremony - both alone and with the people you love - will allow you to leave this celebration for the future. The christening gown you choose for your baby is important not for a short ceremony, but to create a memory that will be remembered for a lifetime. And white christening gowns are more than just a dress. They are symbols of innocence that symbolize your baby's birth.
In some cultures - Irish for example - it is assumed that there are three important dresses in a girl's life. The first is the baptismal gown she wore during her spiritual rebirth, the second is her first communion gown, and finally her wedding gown.
The christening dresses specially prepared by Tha Dressing for baby girls are impeccable in terms of quality, sewing and design. We are passionate about designing dresses that can be worn at all times and kept for a lifetime, and to share in your happiness.
You may want your beautiful baby to have a traditional dress and to look appropriate for the time and the present. We have so many options!
We also have models for families who want it to be completely traditional.
Apart from white and traditional baptismal dresses, you can also choose pastel tones, it's entirely up to you.
We decorate our christening dresses with ribbons, tulle and lace in accordance with the importance of the day, and we support you to complete them with special accessories.
While long dresses were once preferred in christening dresses, today families show more interest in short dresses. Our collection has dresses for both occasions.
The important thing about christening dresses for the moment is that your baby girl looks beautiful and is comfortable at the same time. It is very important not only for him, but also for your comfort. Even though the ceremonies are short-lived, your baby can have the "always expected surprise" during the preparation and photo shoot ceremony A quick change may be required, and at the same time, a useful and practical dress will make you comfortable.
After the baptismal ceremony is complete, you have one more need depending on your wishes!
Post christening party dress!
Here you are very free on the post christening party dress. If you want, you can choose a white dress, just like the christening gown, to extend your baby's christening day. If you want, you can choose a colorful, lively and cute model from the THA Baby Dresses collection to add some energy to the day.
Choosing a baptismal dress, preparing for the day of baptism, and the ordinance and beyond are priceless memories. We have no doubt that you will organize a wonderful ceremony where you enjoy every minute of it. It is very important for us to be with you at this ceremony and on all your special days, to take part in your family photos and to see that you are happy.
Please don't hesitate to ask us any question about both christening dresses and any party dresses you need for your special occasion. As the Tha Dressing team, each of us enjoys the excitement of your special days with you.