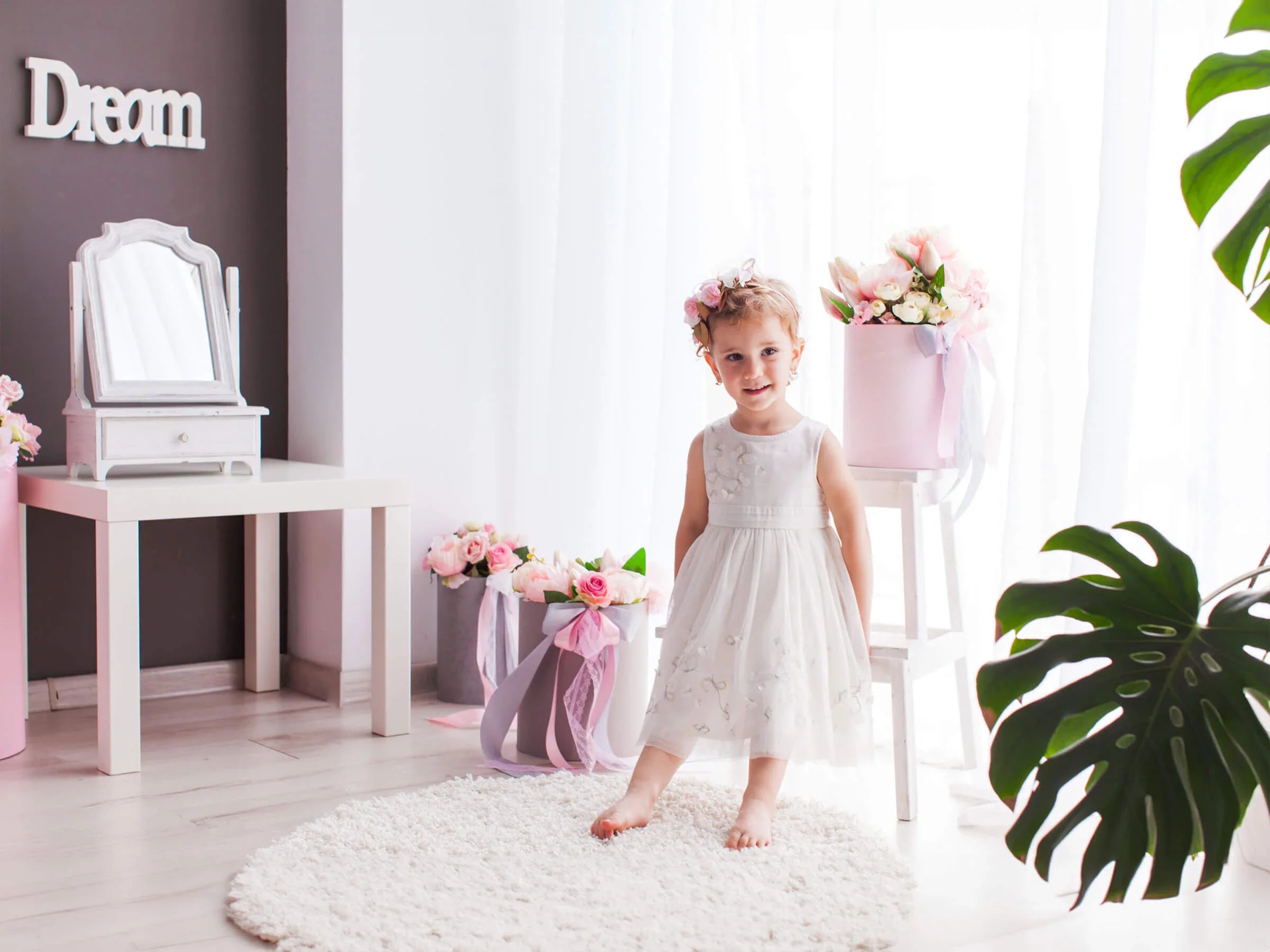 Vintage Dresses
Vintage dresses for children attract great attention all over the world. The THA collection also impresses with its rich vintage options. But what makes vintage style so special? Why does a vintage party dress appeal to kids and moms alike?
 Why Vintage Dresses?
Even though vintage clothes seem to refer to old clothes, they actually refer to clothes that never get old in terms of fashion. The vintage style has always been popular for the last 50 years. Real vintage dresses, that is, those that have survived from the past to the present, are very valuable. If you still have vintage clothes in your closet, don't throw them away!
Be sure your daughter will love them one day.
Let's come to the vintage dresses we produce for girls and baby girls...
The most important features of vintage dresses are that they carry traces of the past. This puts them in a very romantic and innocent mood. Maybe because we miss the good memories we had in the past, we get emotional when we see a vintage dress.
Vintage dresses emphasize that little girls are still children. In a world where everything changes so fast, we may like to see children look like children.
Vintage dresses look different. Children's party dresses are very beautiful, but a vintage dress immediately draws attention.
It looks good on little girls and baby girls to wear clothes like those from old movies and photos. In vintage dresses adorned with lace socks and patent leather shoes, girls really look like little fairy-tale heroes.
Another feature of vintage dresses is that you know that they will never go out of fashion! Because they are not fashionable, they are vintage! You can give it to your cousins, younger sister, daughter of a neighbor or close friend. Or she might want to keep my little girl's dress and dress it up for her own daughter someday. Why not? It never goes out of style anyway!
Vintage dresses are also very useful for parties. Party dresses are a little more difficult to carry, but children are very comfortable in vintage dresses! This is one of the most important reasons why some mothers prefer especially vintage clothes.
Which vintage era do you prefer?
Of course, vintage dresses also have certain periods. Vintage style dresses in fashion are influenced by several periods. Shall we explore together?
Dresses of the 1910-1920s:
The little girls' dresses are decorated with huge bows. So is her hair. Hats are trendy and shoes are classic, usually black…
1930s-1940s dresses:
Small floral patterns began to decorate the dresses of little girls and baby girls. An idyllic and fun style was created with straw hats.
1950s dresses:
The girls liked to dress up with their mothers. Flared skirts, closed neck blouses, watermelon sleeves.
The story goes like this. They might like the hippie style of the 70's and be a flower boy, but little girls usually don't prefer those years because pads came out in the 80s.
 A few suggestions on THA Vintage dresses:
We love our collection of vintage dresses because they remind us of good old memories. We are very happy when little princesses send us photos of our vintage dresses. And we are motivated to produce new vintage dresses.
THA vintage dresses are often preferred at baptism ceremonies of little girls. This traditional ritual really makes more sense in traditional dresses. White color is generally preferred for baptism dresses. If you are looking for a christening dress for your baby girl, click Matilda White Party Dress. You will love it!
If you like small floral print romantic dresses from the 1930s and 1940s, Amber is for you, check it out! Very comfortable, very useful and definitely very romantic!
Calista, Chelsa, Colin, Darla and Dolores can take you on a nostalgic trip to Central and Northern Europe. If your origins are from countries such as Sweden, Norway, and your grandparents were born in regions close to the Alps, these dresses will probably appeal to you.
Luna, Patricia, Aurora, and Heidi can all be gorgeous flower girl outfits. All very stylish and very special!
Lena Baby Dress is one of our favourites! It's like the little sister of the prettiest girl in town wore this dress in a great Western movie we used to watch! Check it out if you don't believe it.