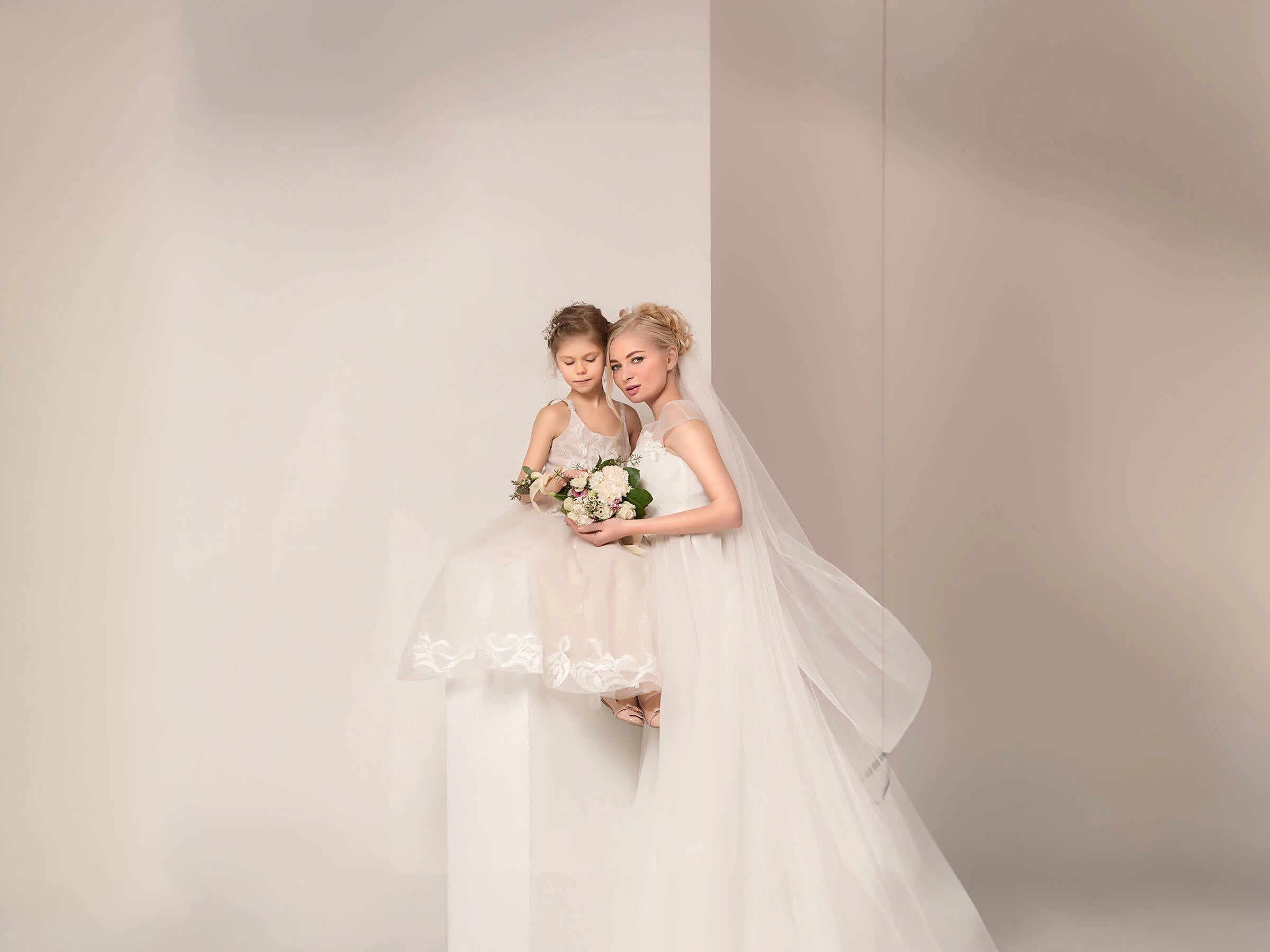 Bridesmaid Dresses
Do you have a little bridesmaids-to-be that you want to see with you when you become the bride? Then let's get her ready for the wedding too! Have you seen the amazing dresses we prepared for flower girls and little bridesmaids? If you haven't checked it yet, be sure to check it out. We don't have a wedding dress collection for you yet, but dresses for little girls are our specialty and we love seeing them like little fairies next to brides!
Little bridesmaids, who are a special member of wedding invitations, are usually between the ages of 8 and 16. Little girls under the age of 8 are called flower girls, not bridesmaids. But you don't have to follow the rules! You can choose your bridesmaids or flower girls at any age! Remember, weddings are the days when dreams come true and whatever you dream about happens.
How to choose a flower girl and what to wear?
Flower girls can be of any age, but they are usually from toddler age to 7-8 years old. Who can be a flower girl? Bride's or groom's sister, cousin, or family friend... The flower girl walks behind the bride or next to the bridesmaids and spreads flowers as the bride comes to the groom. Or she can walk in front of the bride and sprinkle flowers on the path that the bride will pass. Sometimes the flower girl or flower girls - the number is up to you - wait at the altar. If you have a rebellious flower girl, she will do whatever she wants in the moment! It's even normal for her to suddenly spill flowers on his own head! After all, she's a kid and it's perfectly normal and cute if she doesn't follow the rules☺
In fact, it is recommended not to choose 2 or 3 years old when choosing a flower girl.
This is exactly why ☺
It is preferred that everyone who will take part in the wedding be well-dressed and attractive, radiating confidence and happiness. Consider this detail if you want to risk a scared, confused and bored flower girl ☺
Since flower girls will be smaller than bridesmaids, it is important that their clothes are more comfortable, useful, made with quality materials and not boring. She may need to go to the toilet at any time, there is always the possibility of spilling something on her!
In short, flower girls are slightly smaller than bridesmaids of the bride. They need to be as pretty and stylish as bridesmaids. But the areas of freedom are wider ☺
Little Bridesmaids and bridesmaid dresses
We have created a list of suggestions by taking the opinions of expert mothers about the clothes of your little bridesmaid:
- They are children, naturally they should dress like children.
- According to the bride's desire, they should be in harmony with the concept and colors of the wedding.
- A more modest version of the bride's bridesmaids might be appropriate. In other words, less decollete, less slit.
- Your little bridesmaids' clothes should be comfortable and useful as always. They are still very young and may not be able to manage the clothes they will carry all day as easily as adults.
- Little bridesmaids can adore heels because they are growing up. Our advice to you is to persuade them to wear comfortable shoes as much as possible. The length of time they stand can be quite long. It is very important for them to be healthy and happy.
- Little bridesmaids may naturally want to wear makeup too. Mothers recommend that you be determined on this issue. It may be a light lipstick and blush, but please don't support their exaggeration. Both for their skin and because they will get bored after a while. Especially if it's summer!
- Brides usually wear white, but bridesmaid dresses are more liberal. Sometimes the bridesmaid dresses may even be the color of the groom's handkerchief. The new generation of brides and grooms are very free and creative in this regard. They don't like borders :) We're sure you'll find a color that suits you among hundreds of THA Dressing's party dresses.
- Although the choice of colors is free, pale colors and white are usually the favorite color at wedding parties. Colors such as light blue, lilac, white, pink are preferred. It's totally up to you!
- Even if she wears a different color, she can wear a sash to match the bride's dress.
- If you want, you can enrich your little bridesmaids' outfits with details such as a crown or a small scepter.
Traditionally, the dress of the flower girl and the little bridesmaids are welcomed by the families of the bride and groom. But lately, modern brides and grooms expect their parents to pay for their flower girls' and bridesmaids' dresses. This is very natural because there are many expenses waiting for them☺ The important thing is that the children, bride and groom are happy. It's the only thing more important than dresses for a beautiful wedding ceremony. So let the dresses make everyone happy too. Let a wonderful life begin at a colorful, cute, flowery and happy wedding!
Don't forget to take lots of photos and send them to us☺