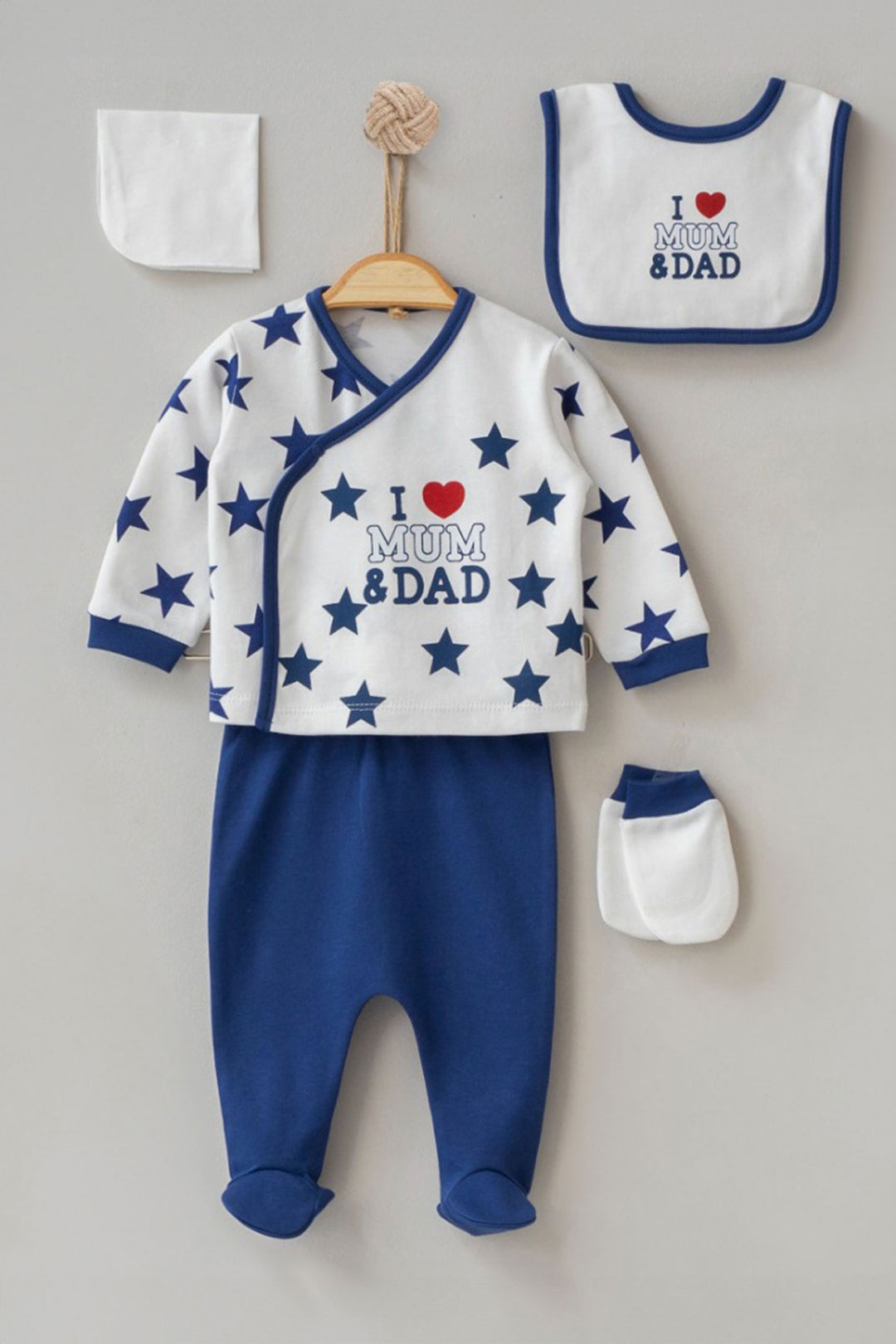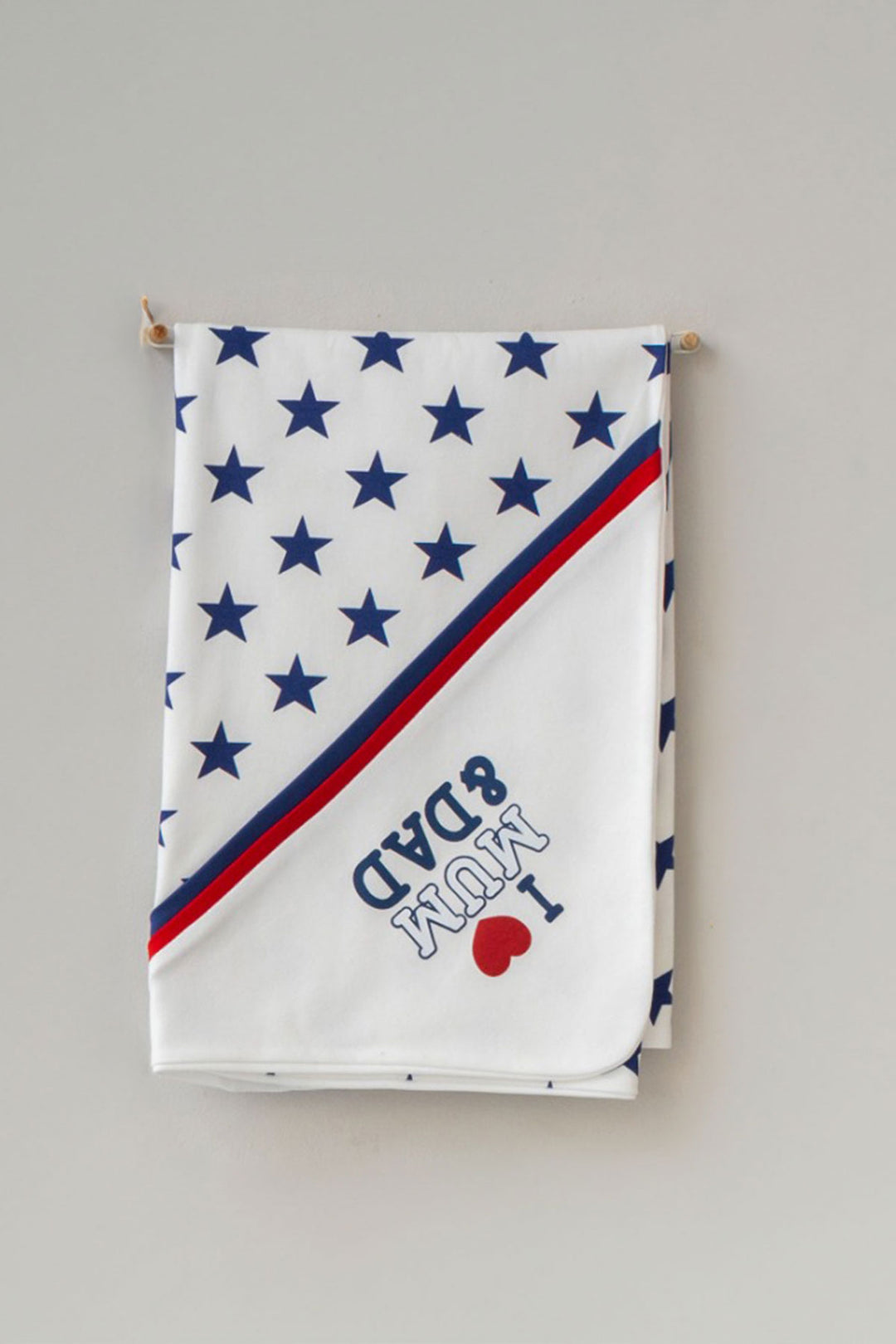 Lincoln Blue Star Newborn Coming Home Set (10 pcs)
Regular price
$157.00
Sale price
$130.00
Save $27.00
/
---
Starry Arrival: A Heartfelt Cotton Tribute for Newborn Baby Boys 🌟❤️

Step into the world of unmatched comfort and design with our exclusive 10-piece Hospital Exit Set, lovingly tailored for your newborn prince. Woven from 100% pure cotton, each piece is crafted to provide an exceptionally soft touch to your baby's tender skin.

Adorning this timeless ensemble, twinkling blue star motifs grace the jumpsuit, body suit, blanket, and hat, capturing the magical essence of his earliest moments. Further personalizing this special set, the touching declaration "I ❤️ MUM & DAD" stands out proudly on the long sleeve bodysuit, bib, and blanket, making it a sentiment-filled treasure.

Delicately Designed Details:

Blanket:

 Warm embraces, lit up by stars and love for Mum & Dad.

Jumpsuit:

A cozy fit, sprinkled with the charm of blue stars.

Long Sleeve Bodysuit:

 A warm gesture declaring his love, right from the start.

Pants:

Perfectly paired for snug adventures.

Bodysuit:

Everyday elegance, adorned with dreamy stars.

Bib:

Stylish protection, echoing his earliest affections.

Cardigan:

Soft layers of warmth, perfect for cuddly moments.

Hat:

Starry nights and sunny days, kept comfortable.

Cloth:

Gentle and ready for the little moments that matter.

Mittens:

Embracing his tiny fingers in unmatched comfort.
Our Starry Arrival Collection is more than a set; it's a heartfelt ode to the bond between parents and their newest addition. Let your baby boy's first journey in the world be marked by style, love, and stars.

Limited stock available. Capture these tender moments in the constellation of love and care. Order now! 🌟❤️🍼
Use Suggestions:
100% Cotton, Newborn Baby Hospital Outfit Set: Who Should Buy?

A new baby carries one of the most special moments of life: A new beginning, a new life and new hopes. Every detail of these special moments is carefully planned and selected. So, who should choose this pink colored, 100% cotton newborn baby hospital exit set?

1. New Parents:
For moms and dads whose babies have just been born or will soon give birth, this set is a comprehensive package that meets the needs of the baby's first days.

2. Family Members:
Grandmothers, grandfathers, aunts, uncles, aunts, uncles, uncles... A newborn baby is a source of great joy for the family. This set can be an ideal gift to celebrate a new family member.

3. Close Friends:
When a friend has a baby, it can be a great cause for happiness for you too. If you are looking for a useful and stylish gift to celebrate this special moment, this set is for you.

4. Coworkers and Neighbors:
If a colleague or neighbor at work has just had a new baby, you can show your kindness and offer them a useful gift with this set.

5. Baby Shower Organizers:
A baby shower is a special day when a mother celebrates with her loved ones before bringing her baby into the world. Those looking for an ideal gift for this special day can choose this set.

In conclusion, this special and functional hospital exit set is perfect for anyone who is expecting or has a new baby. It makes the first days of the baby's life unforgettable with its stylish and aesthetic design, as well as being carefully prepared for the baby's comfort. This set is a quality and elegant product that meets the needs of the baby and its family.
This product is ready to ship. It is delivered within 2-3 business days with standard shipping option.
We have express shipping options including "Next Day Service". Please contact us before placing an order to learn more about expedited process.