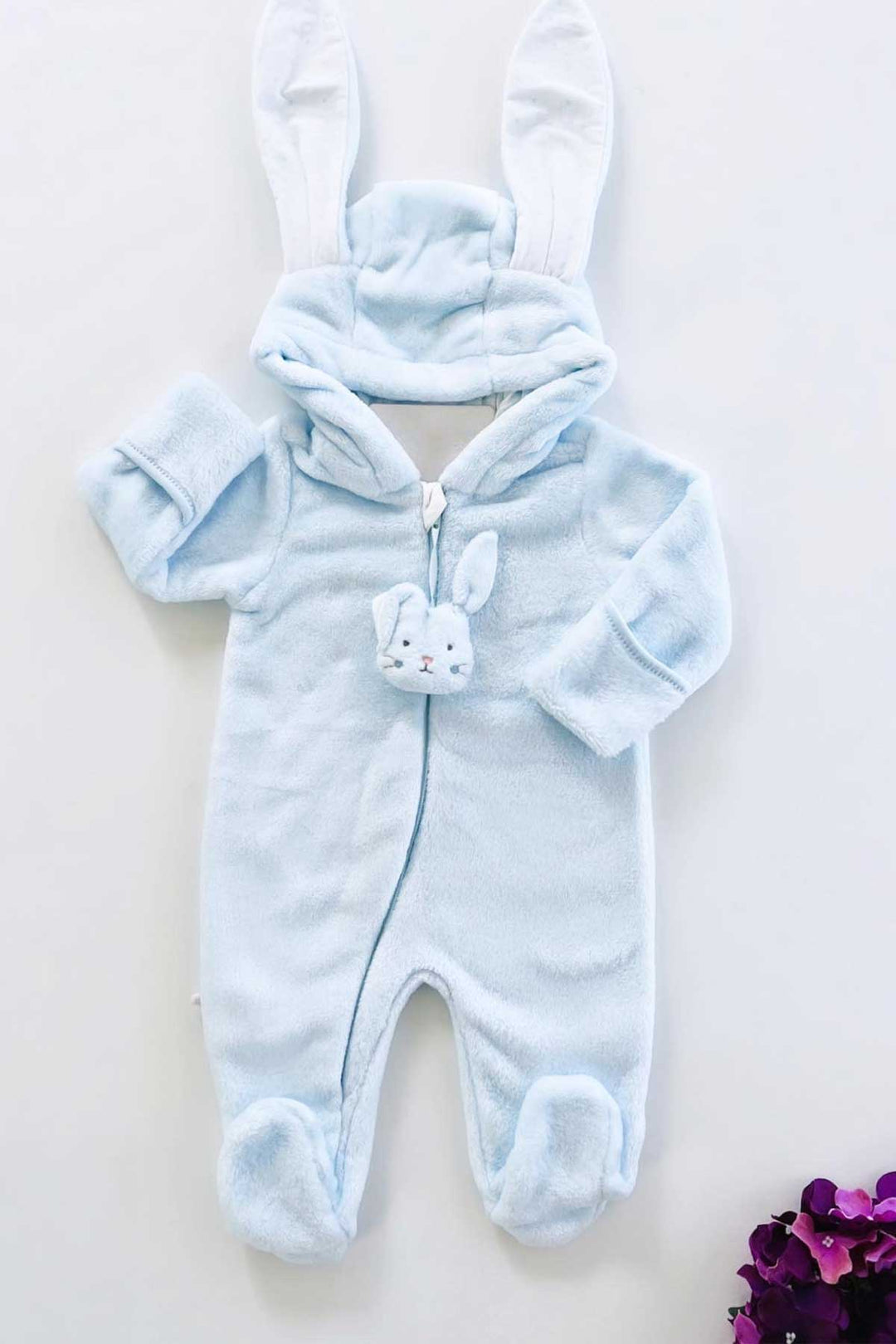 Blue Bunny Hooded Jumpsuit
---
"Whimsical Wonderland" – Embrace the Magic with Our Bunny-Themed Baby Romper

Dive into a world of softness, warmth, and enchanting design with our "Whimsical Wonderland" Bunny Baby Romper. Crafted for your little one's comfort and your love for all things adorable, this piece is a snug embrace on chilly days and a statement of style all year round.

Key Features of the "Whimsical Wonderland" Bunny Baby Romper:

Soft Cuddles: Made from premium-quality materials, our romper ensures a gentle touch against your baby's skin, mimicking the tender embrace of a mother's love.
Captivating Design: The pastel blue hue paired with the delightful bunny-eared hood and a heartwarming bunny face zipper pull creates a blend of fashion and innocence.
Cozy Fit: Ensuring your baby's movements are unrestricted and comfortable, our romper is designed for both active playtime and peaceful slumber.
Easy Care: Durable and easy to wash, our romper promises to be a lasting companion for your baby's many adventures and milestones.

A Delightful Gift for Every Occasion:
Whether it's a baby shower, birthday, or just a 'thinking of you' gesture, the "Whimsical Wonderland" Bunny Baby Romper is the perfect gift that parents and babies alike will adore. It's more than a garment; it's a cherished memory in the making.

Special Limited-Time Offer:
Hop into a world of savings with our exclusive promotion on this sought-after piece. For a limited time only, experience the magic of our bunny-themed romper at a special discount.

Celebrate the joyous journey of parenthood and the wondrous world of babyhood with the "Whimsical Wonderland" Bunny Baby Romper. Offering unparalleled comfort, style, and quality, it's a wardrobe essential for your little bundle of joy. Shop now and watch your baby hop, skip, and jump with delight!
This product is ready to ship. It is delivered within 2-3 business days with standard shipping option.
We have express shipping options including "Next Day Service". Please contact us before placing an order to learn more about expedited process.